Revolutionizing rain-fed farming for food security in Sri Lanka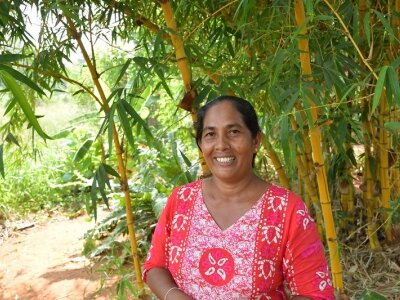 View the original photo essay, published in January 2023, here.
It's 10 AM in Anuradhapura, the sun is glaring down on the agricultural heartland of the country and the air hangs dry—there hasn't been any rain in weeks despite it being the rainy season in the Dry Zone. The farmer communities look to the skies, awaiting the rains, especially concerned because of the country's glaring food security issues.
In addition to the compounding climate change-related impacts on agriculture are the ongoing economic crisis impacts in Sri Lanka. The fuel crisis, the lack of fertilizer and increasing costs of necessary agricultural inputs like seeds and fertilizer are dampening yet another season's cultivation.
In Bellankadawala, Champika Siriwardena is preparing to lead another meeting of the 'Sithamu' Women's Farmer Organization. Champika says that this season has been incredibly difficult.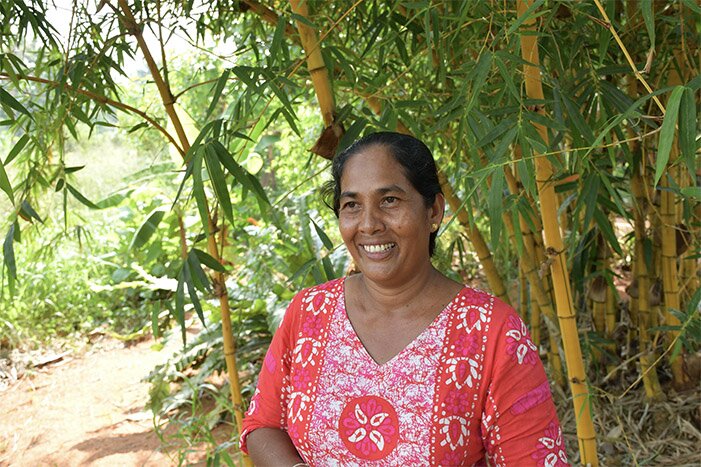 Champika Siriwardena
COMPOUNDING IMPACTS ON FARMERS
I used to farm 30 acres of paddy, but this season I've only managed to do 3.5 acres of paddy, along with 6 acres of goda boga (cash crops). A liter of diesel used to cost LKR 111.00 and while kerosene was sold at LKR 86.00. Now, both of these have increased to LKR 387.00 and LKR 365.00 respectively.
A small walk away from Champika's house is Mr. Shirley Perera's field. Shirley echoes the same woes.
Usually we cultivate corn because of its commercial value. But because of the increasing prices and shortage of fertilizer, we have completely dropped the cultivation of corn.
In addition to seed support, the initiative has been carrying out community awareness programmes on seed distribution and agro-met advisories, and mobilizing farmers to improve the ecosystem. 
ADDRESSING SRI LANKA'S FOOD SECURITY NEEDS
As part of the facility, Citi Foundation pledged a 72 Million Rupee contribution for the diversification of agricultural livelihoods by providing cash crops such as black gram and finger millet, and cash grants to prepare farmlands under uncultivated minor irrigation tanks. The objective: to boost stagnant cultivation activities, but also to ensure food security and increase farmer income for economic recovery.
Champika says, "Without this seed support, I couldn't have farmed at all, this season." Shirley concurs, "We could only resume the cultivation that we abandoned because of these seeds. In addition, the buy-back agreement with BioFoods has ensured that I receive a return for my cultivation work in these difficult times".
A WHOLE-OF-ECOSYSTEM APPROACH
The CRIWMP's innovative integrated water management model adopts a whole-of-ecosystem approach to strengthen the resilience of smallholder farmers in the Dry Zone to climate variability and extreme events by working through three approaches. 
Firstly, upgrading and enhancing the resilience of village irrigation systems and scaling up climate-resilient farming practices. Secondly, by enhancing climate-resilient, decentralized water supply and management solutions to provide year-round access to safe drinking water to vulnerable communities, and thirdly, by strengthening climate and hydrological observing and forecasting systems to enhance water management and adaptive capacity of smallholders to floods and droughts. The project work in rehabilitating 325 reservoirs of an ancient water distribution structure known as the cascade system has now led to communities enjoying an increasing cropping intensity and a year-round harvest, assuring their agricultural production, a sustainable income, and from a larger perspective, the food security of the smallholder communities and the country. 
In the Mahadivulgaskada Tank area, Mr. Sunil Premaratne - whose house borders the tank, outlines his experience with the project, saying "It's been about two and a half years since the conservation bund was built to prevent the soil from being eroded to the tank. Previously, I too used to farm right up to the tank bund, but now we've brought it back behind the conservation bund and are taking care of the catchment area... "
Reducing our farming practices near the tank bundt, has resulted in us receiving a higher income.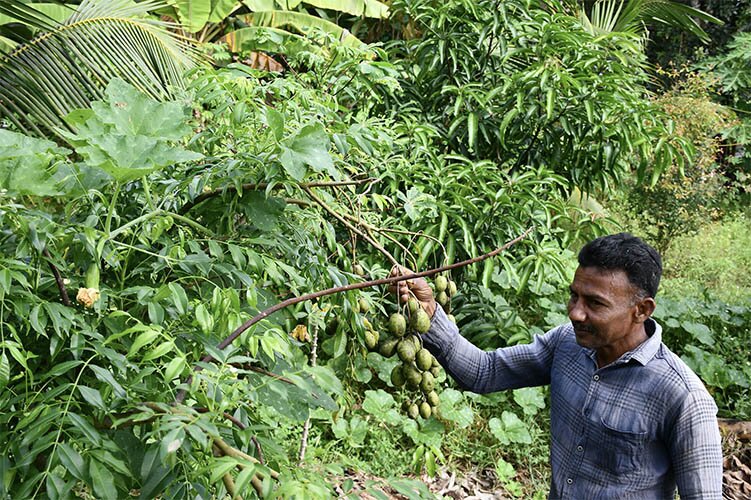 Mr. Sunil Premaratne
Sunil, with his wife Rohini Pushpalatha, now runs an organic home garden in their backyard. With the support of the CRIWMP's climate-smart agriculture programme, their home garden boasts an array of chilli, nai miris (scotch bonnet), pineapple, June plum, moringa, coconut, mango, tomato, banana plants, cowpea, cashew, soursop, turmeric, ginger and areca nut.
We didn't even have home gardens before. These were introduced to us through the project. With the support received, we only had to account for the labour and water costs for the garden. We have an increase of about 50% in our income and barely buy any vegetables from outside, which helps us save a lot of money. We can carry out our day-to-day life thanks to the funds we earn through home gardening.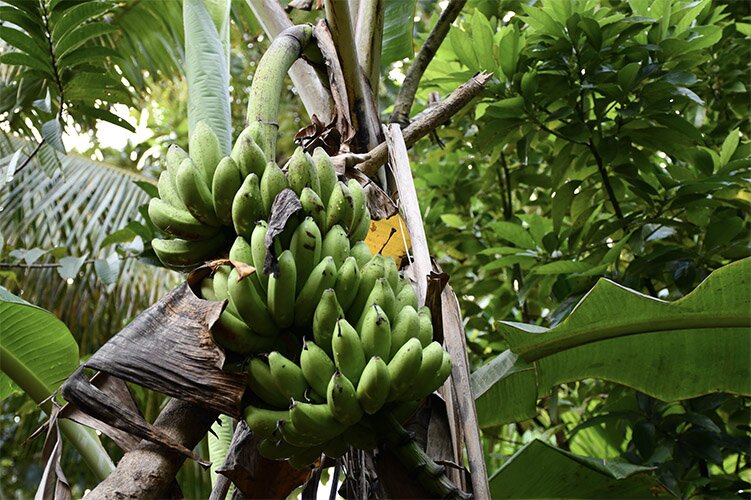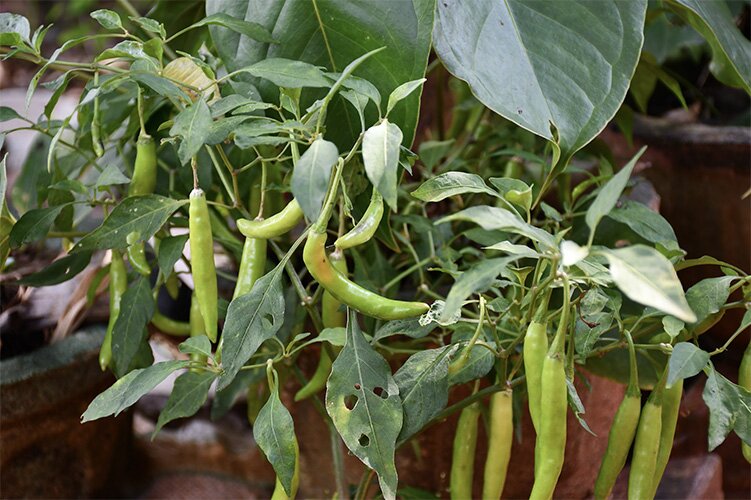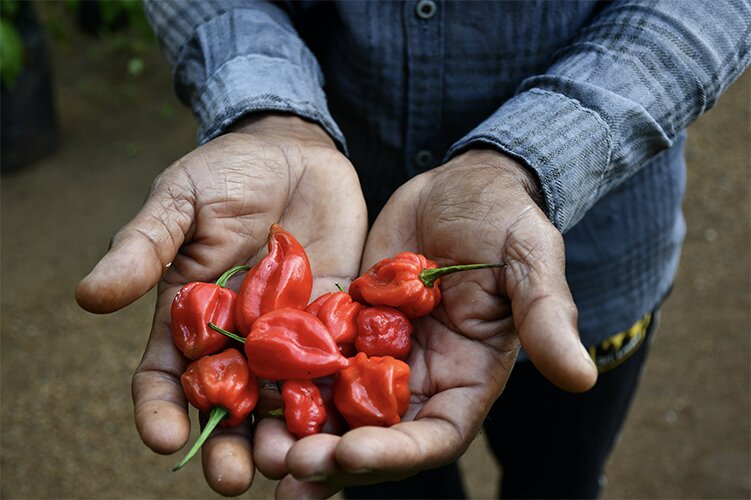 With the support of CRIWMP's climate-smart agriculture programme, Sunil, with his wife Rohini Pushpalatha, now run an organic home garden in their backyard.
SAVING GRACE FOR SMALLHOLDER FARMERS
The results of this project over the years have proven to be the saving grace of the smallholder farmers in the Dry Zone, as the country grapples with the multidimensional crisis. Junctures of crisis, like in Sri Lanka, posit the most opportune time to demand a different, better, inclusive, and more resilient future, especially one that puts people first. The CRIWMP's integrated water management model, particularly its climate-smart agriculture programming, outlines a blueprint for reviving the stagnant rural economy, ensuring food security, and sustaining the livelihoods that maintain Sri Lanka's domestic food production—a crucial need as Sri Lanka embarks on its green recovery.  
The CRIWMP is implemented by the Government of Sri Lanka with technical support from the United Nations Development Programme (UNDP) and funded by the Green Climate Fund. To learn more about the project, click here.